"I've written before about how my love for flip-flops renders my feet pretty gnarly. I'm not proud. But since I've discovered this awesome "get your feet as soft as a baby's tooshie" method, I've felt compelled to share it with you. (I'm sure that's not the clinical name of the procedure, but you get the drift.)"
"If your heels are dry, yellowed, and cracked to the point where they snag your carpeting and/or your pet, it's time to start doing something about the situation. And, while you can feel free to spend time (and coin) at your local pedi place having them "remove calluses," in my experience that doesn't act as anything more than a temporary band-aid to an on-going problem."
"If you really want to see a difference in the way your feet feel and look, try this method courtesy of Paula Begoun, that cool lady who hates to see us all waste money on nothing but packaging and advises us not to "go to the drugstore without her." From Total Beauty.com
Want your dry, cracked, and generally gnarly feet to be as soft as a baby's tooshie? We've got the tips you need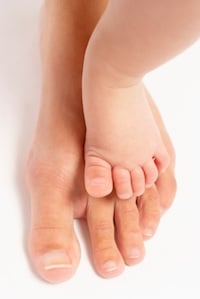 This is a TotalBeauty.com
dry skin
article
We get it -- it's freezing outside and the softness of your feet is probably the last thing on your mind. But wouldn't you agree it would be nice to walk around your house barefoot without your cracked heels snagging the carpet? See our three easy steps to get your feet as smooth as a baby's bottom.