"Miniskirts are out in full force on the red carpet this season: Cameron Diaz showed off her mile-high legs at the "Bad Teacher" premiere; both a tanned Leighton Meester and a fair-skinned Emma Stone wore minidresses at the MTV Movie Awards; and Jennifer Aniston bared her enviably toned gams in a black leather mini at the London premiere of "Horrible Bosses.""
"To nail down a "sexy legs" routine that works fast, I consulted the experts behind some of the sexiest bodies in the world. From must-do exercises to the best shower, makeup, and fashion tips, follow their advice and you'll be ready to slip on that mini within a week. Yes, a week." From Total Beauty.com
Follow these 6 simple steps and your legs will be ready for show-and-tell in a week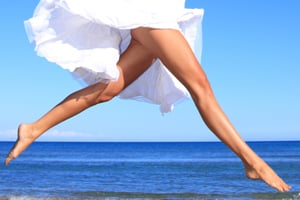 It's no secret that the miniskirt is making a comeback. So, when it's time for your pasty white legs to see the light of day, here are the tips you'll need to get your gams in shape.