From TotalBeauty.com, "They say bigger is better, and when it comes to ballerina buns, I would have to agree. It's not that I don't love the trendy topknots celebrities have been flaunting it's just that I need the voluminous structure in a BIG bun to even out my slightly smaller head.
Pinhead aside, is there anything more elegant than a thick, glossy bun? You know the kind that makes it look like you have tons of hair piled high? Love.
Here's the thing though: I don't have miles of hair. In fact, mine ends at my collarbones (and that's after a year of "growing it out"). So, when I try to wrap my hair into a bun, the result is a puny half-loop. Not a good look, believe me.
That's why I was so very stoked when I discovered the sock bun technique.
Now, I know some of you cringe at the mere name, but I can assure you it really works. For years, friends and co-workers have asked me how I get my bun so full and are always shocked to learn that the secret weapon is a small black sock.
Don't believe me? Give it a try. It might take a few attempts -- consider it a mini arm workout -- but once you master the technique, I'm confident you'll be bun-ing it all summer long."
You don't need to know how to plié to pull off this look. See this tutorial for a perfect bun every time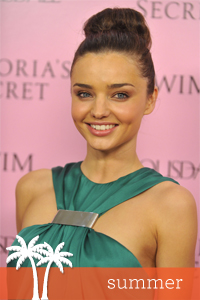 This is a TotalBeauty.com hairstyles article
Just because you haven't been classically trained doesn't mean you can't steal the ballet's classic bun. Proof: We're seeing the do all over the red carpet and it looks fab. And while those celebrities may have pro hairstylists to rely on, we're here to tell you that you don't need a professional posse for this gorgeous updo. All you need are socks, a pair of scissors, and this step-by-step tutorial.